The UMBC Review is a peer-reviewed publication that is published by UMBC and is sponsored by the Division of Undergraduate Academic Affairs. The current issue of the UMBC Review includes several articles written by UMBC students, including "Digital Divide During the COVID-19 Crisis: Lack of Internet Connectivity and Community Mesh Networks" (page 84)* by Karina Lopez-Brown ('21, information systems).
Check out the current issue! [PDF]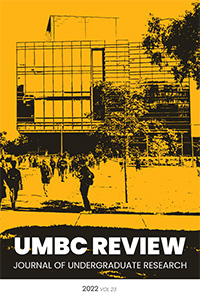 * NOTE: Some browsers do not accept the page designation in the URL and will open by default to the first page of the PDF. Individual users should make sure that they have the required plug-ins to read an Adobe Acrobat document within their preferred web browser.