UMBC welcomes executive director, cybersecurity initiatives
Donna Ruginski joins Office of the VP for Research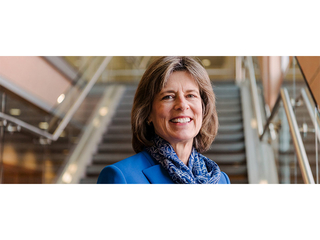 April 9, 2019 by
Megan Hanks


"Cybersecurity research is important because we live in a connected world. As a society, we have an expectation to conduct professional business in a safe and secure technology environment," says Donna Ruginski, UMBC's new executive director for cybersecurity initiatives. "Research is thriving at UMBC, and some of the nation's leading cybersecurity research is being conducted at UMBC."
Ruginski joins the Office of the Vice President for Research as the first campus leader to hold this partnership-focused cybersecurity role.
"I am delighted to join the UMBC community and to work with its visionary leadership and extraordinary faculty and staff," she says. "UMBC's capabilities and resources in cybersecurity contribute to the region's economic development through a comprehensive cybersecurity focus on academic education, research, workforce development, technology incubators, and entrepreneurship. UMBC truly offers the complete package, making it an exciting place to be."
Ruginski brings significant experience in cybersecurity to her new role at UMBC. She holds a master's degree in computer science from Johns Hopkins University and has founded and served as a senior technology executive at software companies over the course of her career.
Karl V. Steiner, vice president for research at UMBC, says Ruginski's role is important for UMBC, for Maryland, and for the United States. "UMBC is already recognized for its strength in the growing field of cybersecurity and through our strong relationships with federal agencies and the private sector," Steiner explains. "Ruginski comes to us with an exceptional background and strong skill set that will enable our community to thrive and successfully pursue exciting new opportunities in the years to come."
In her new role, Ruginski will work to enhance awareness of UMBC's broad portfolio of cybersecurity initiatives and expand research partnerships with public and private organizations, says Steiner.
"Expanding cybersecurity research at UMBC will offer additional opportunities for faculty and students at all levels," says Ruginski. "I'm excited to supportUMBC's growing reputation as a leading research institution."
Banner image: Donna Ruginski. Photo by Marlayna Demond '11 for UMBC.