Looking ahead to UMBC Giving Day
shining a spotlight on ways to make a difference
February 20, 2019 4:04 PM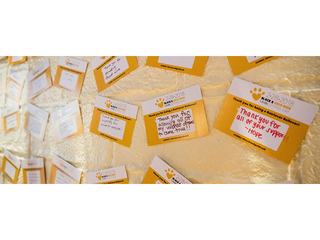 February 19, 2019 by
Dinah Winnick


At midnight on Thursday, February 28, UMBC Giving Day will officially begin, kicking off the university's second annual 24-hour marathon of giving. The goal: for as many UMBC alumni, friends, faculty, staff, and students as possible to make a gift, supporting UMBC students and projects. UMBC is relying on Retriever Nation to make the 1,000 donor goal a reality.
"Last year was our very first 24-hour giving day—Black and Gold Rush—and it was simply amazing," says Joanne Meredith, director of annual giving. "The entire UMBC community came together to support scholarships, athletics, campus life, academics… They gave to what mattered most to them."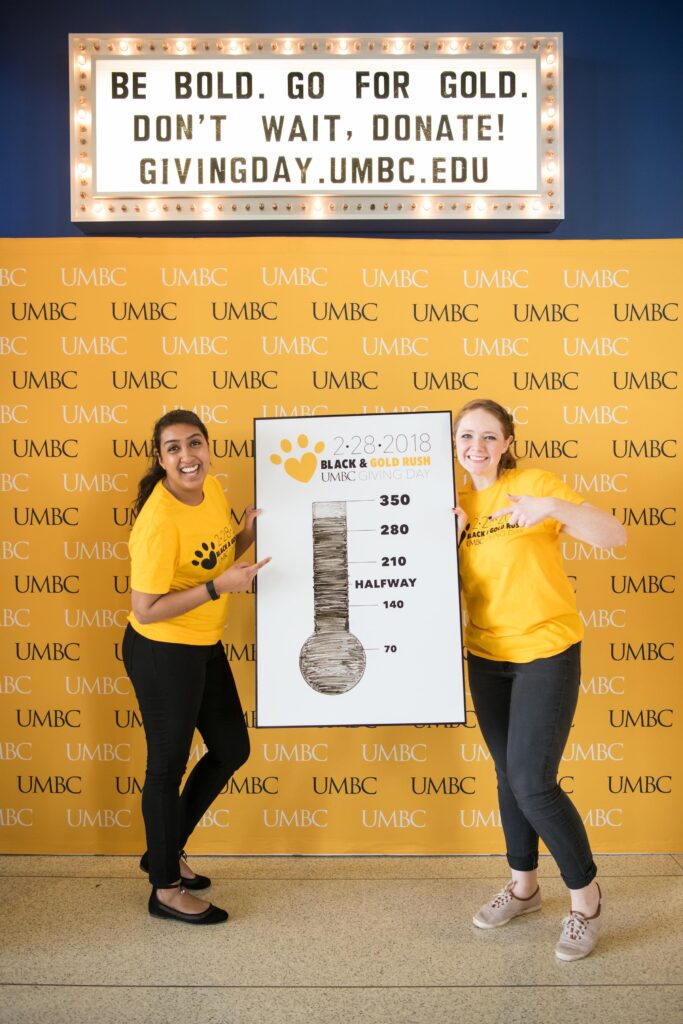 UMBC staff Tsai-Ann Yawching, special events assistant, and Caitlyn Mitchell, advancement services coordinator, celebrate Giving Day 2018.
Making an impact
For Giving Day 2019, UMBC will shine a spotlight on eighteen funds as key areas for support. The Stay Black and Gold Fund, for example, directly supports students who are facing financial hardship as they seek to finish their degrees. The Retriever Essentials fund supports work to tackle food insecurity in the UMBC community. Donors can also give to other UMBC funds that they choose, beyond the eighteen featured.
"This is a special time for UMBC," said UMBC President Freeman Hrabowski. "We want you to give to whatever it is that you want to give to—whether it's academics or athletics, scholarships or Student Affairs."
President Hrabowski will once again be taking over UMBC's Twitter account in the midst of the excitement on UMBC Giving Day 2019.
Joining the festivities
In the spirit of the #blackandgoldrush Giving Day theme, all Retrievers are encouraged to wear black and gold on Thursday, February 28. To help support the cause, the UMBC Bookstore is offering 50 percent off all clearance merchandise from February 25 through March 1.
UMBC Giving Day 2018 t-shirts.

Join in the festivities on Thursday, February 28 by dropping by Giving Day headquarters at Main Street in the Commons, 10 a.m. – 2 p.m. There will be games, live performances, prizes, snacks, and more.
The celebration will also be online, where ambassadors are competing to see who can raise the most donors and visibility for Giving Day. Since January, Retrievers have been signing up to serve as social media ambassadors and helping to boost awareness about Giving Day throughout Retriever Nation. On Giving Day, ambassadors will be able to track their progress on a leaderboard, to see who helped generate the most clicks and donations for their UMBC causes. The top individual, department, and student ambassadors will all receive special prizes.
"This is such caring community, full of energy and UMBC pride," says Greg Simmons, M.P.P. '04, public policy, and vice president of institutional advancement. "To be successful, Giving Day is definitely an all-hands-on deck effort. We are excited to see how support from UMBC alumni, students, parents, faculty, and staff on Giving Day can extend the reach and impact of the work we do together."
Wherever you are on Thursday, February 28, you can follow all of the Giving Day 2019 festivities on UMBC's Twitter, Facebook, Instagram, and Snapchat (@UMBCLife), and post your own thoughts on why supporting UMBC students is so important using #UMBC and #blackandgoldrush.
Featured Image: Thank-you notes from Giving Day 2018. All photos by Marlaynd Demond '11 for UMBC.